Honorary Degree Recipient: Doctor of Laws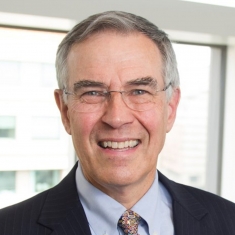 Rutgers is proud to bestow upon Rush D. Holt an honorary doctor of laws degree. Holt is a former member of the U.S. House of Representatives where he represented New Jersey's 12th congressional district for eight terms. After 16 years, Holt decided not to seek re-election in 2014. He spent a brief period as a director's visiting scholar at the Institute for Advanced Study in Princeton and then assumed the position of CEO of the American Association for the Advancement of Science, in which he served until he retired in September 2019. Previously, Holt, a physicist, had been assistant director of the Princeton Plasma Physics Laboratory at Princeton University (1989–98); acting director, Nuclear and Scientific Division, Office of Strategic Forces Analysis, at the U.S. Department of State (1988–89); a member of the faculty at Swarthmore College (1980–88), where he taught the full range of courses in physics and as well as courses in public policy; visiting researcher at the National Center for Atmospheric Research (1984); and American Physical Society/AAAS Congressional Science Fellow (1982–83) in the office of U.S. Rep. Bob Edgar (PA-7).
In Congress, Holt was active in a variety of areas including education, natural resources, civil rights and civil liberties, oversight of intelligence, voting security and election reform, and science. In office, he took his most important task to be working to restore citizens' trust in their government. Since leaving Congress, Holt has been especially active in attempting to restore evidence-based thinking to American culture and politics. Recently he published a companion essay to the reissue of Vannevar Bush's Science: The Endless Frontier in which he argues that the value of science is not simply as the font of materials, medicines, and munitions derived from research, but equally as a tool available to all for democratic citizenship.
Holt received a bachelor of arts degree in physics, Phi Beta Kappa, from Carleton College, where he received the Dana Award, and master's and doctoral degrees from New York University in physics. Holt has received various awards and recognitions including the John P. McGovern Award from Sigma Xi; Public Service Award from the American Chemical Society; Roger N. Baldwin Award from the American Civil Liberties Union of New Jersey; Henry T. Yost Award of the American Association of University Professors; Edwin Cudecki Award for Support for Foreign Language Education from the American Council on the Teaching of Foreign Languages; Pick and Gavel Award of the Association of American State Geologists; Sidney B. Yates Award from the National Humanities Alliance; Wright Award of the American Society of Mechanical Engineers; William Carey and the Philip Abelson Prizes of the AAAS (2005 and 2010, respectively).