The Venue: SHI Stadium
SHI Stadium is the setting for Rutgers University—New Brunswick and Rutgers Biomedical and Health Sciences Commencement on Sunday May 15, 2022. With more than 30,000 people expected to descend upon the stadium on Commencement Day, the information below aims to provide information you need-to-know about SHI Stadium. 
Commencement Information
Commencement is held rain or shine. SHI Stadium is an open-air venue. Guests may experience direct rain or sun. 
Attendees are advised to dress for the weather and consider bringing a hat, sunscreen, and rain poncho, depending on the weather forecast.
The weather in May can range from 50-80 degrees Fahrenheit and skies can change rapidly. 
Guests and graduates can expect a healthy amount of walking and are encouraged to wear comfortable shoes. 
Stadium Entry, Security, and Restricted Bag Policy
Bag policy will be strictly enforced.
Guests must past through security upon entry.
Guests with bags will be directed to specific entry gates at which bags will be subject to search, which may hinder admittance.
Prohibited items include: duffel bags, backpacks, camera bags, strollers, umbrellas, balloons, noisemakers and outside food, bottles and beverages.
Exceptions will be made for medically necessary items after proper inspection.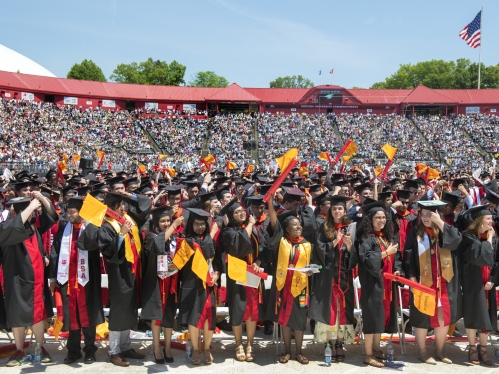 Gate Procedures: All bags brought into the stadium will be inspected. SHI Stadium regulations prohibit outside food and beverages, bottles, cans, alcoholic beverages, coolers, umbrellas, noisemaking devices, balloons, laser pointers, pets (with the exception of service animals), balls, weapons, sticks/poles, containers, fireworks, and any other items deemed dangerous or inappropriate from being brought into the facility. 
Smoking Policy: Per university regulations, smoking is not permitted in the seating area, bathrooms, and lower/upper concourses.
Umbrellas: To ensure safety and good field visibility, umbrellas are not permitted in SHI Stadium.
Solicitation: The selling of any item by anyone other than university-authorized personnel in and around SHI Stadium, including the parking lots, is prohibited. Violators are subject to prosecution.
Stadium Gates: Guests are able to to access the stadium via Gates A, B, C, D, and E. 
Lightning Alert: Rutgers University Athletic Facilities are equipped with the Thor Guard Prediction System. In the event that the system activates, proper evacuation policies and procedures will be implemented.

SHI Stadium: Capacity is 52,454.
Gates: Open at 8:00 a.m.
First Aid: Medical assistance is available inside the Stadium North Gate and also at the Upper West and Upper East concourses.
Lost & Found / Lost Child: The Police Command Post is located in section 113 entrance. Following the event, all lost & found items will be turned in to the Rutgers Police Department. Please contact them directly at 732.932.7211.
Elevator: Located on the concourse behind Section 101 on the West side. The elevator at Section 137 on the South side is limited to those accessing that end of the stadium. Guests needing to access seating are not able to use this elevator.
Restrooms: Located throughout SHI Stadium and offer baby changing stations.
Concessions: Booths and carts are located throughout SHI Stadium.
Ushers: Located throughout SHI Stadium and are clearly identified with their yellow "Event Staff" jackets. Ushers will assist you with your seat location and will do their best to answer your game day questions.
 

Expect travel routes to SHI Stadium to have heavy traffic and delays the day of Commencement. 

Plan to arrive by 8 a.m. to allow time for parking, shuttle bus transportation and walking to the stadium.
Carpooling or public transportation are recommended.

Follow the driving directions provided in the parking mailing to access special-needs parking. Once on campus, all roads are not open.
Commencement parking hangtags are required for parking on campus on Commencement day. Please visit the Parking & Maps page for detailed information.
There is no curbside drop-off at any access point to the stadium. For those unable to walk a distance, it is recommended to register for a special-needs parking hangtag. 
Those who are intending to take car service such as Uber or Lyft should request drop off at the College Avenue Student Center and take the free shuttle bus to Busch Campus. 

In accordance with Piscataway Township ordinance (Ord. No. 93-51; Ord. No. 2015-29; Ord. No. 2016-41), no person shall stop or stand a vehicle between all hours on River Road, from the intersection of River Road and Hoes lane West to the intersection of River Road and Ross Hall Boulevard.
This will impact visitors to SHI Stadium, as law enforcement officials will cite motorists in violation of the ordinance. Passenger vehicle pick-up or drop-offs are strictly prohibited in front of the stadium's south gate entrance along River Road.
A full list of streets and intersections affected by the Piscataway Township ordinance are listed here. 

Seating at SHI Stadium is bench stadium seating, many of which have no seat backs. Stadium seats and cushions may be brought in. Guests should be prepared to sit for the duration of the ceremony in the open-air stadium, in all weather elements. 
Special-needs seating is available for guests with mobility limitations. Please visit the Accessibility page for detailed information.
SHI Stadium map [PDF].
Accessibility
Special-needs seating is available for guests with special-needs and is on a first-come, first-served basis.
Rutgers University does not supply assistive devices while on campus or at the stadium. If you require a wheelchair or other device for mobility, you must bring it with you. 
Walkers, wheelchairs, and scooters are permitted in SHI stadium.
Detailed information is available on the Accessibility page.
Alternate Viewing Locations On Campus
Watch Commencement from the comfort of indoor viewing rooms at the Busch Student Center, Livingston Student Center, or College Avenue Student Center.
Guests can enjoy a livestream of the ceremony in the comfort of air conditioning and cushioned seats and remain out of the sun and weather.
Restrooms and limited concessions will be open.
Curbside drop-off to any of these student centers is available as well.
No tickets are required, and seating is general admission.