Commencement Speaker
Honorary Degree Recipient: Doctor of Letters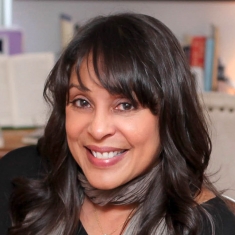 Rutgers is proud to bestow upon Natasha Trethewey an honorary doctor of letters degree. Trethewey is an award-winning author and former U.S. Poet Laureate. She has focused her career on examining the intersections and contentions between public and personal history, national memorialization and forgetting, and the fraught legacy of race in America. Her important work has earned her a Pulitzer Prize and a spot on the New York Times best-sellers list, among other notable achievements.
Born in Mississippi to a poet/professor and a social worker, Trethewey earned a bachelor of arts degree in English at the University of Georgia, a master of arts in English and creative writing from Hollins University, and a master of fine arts in poetry from the University of Massachusetts, Amherst. She served as the Robert W. Woodruff Professor of English and Creative Writing at Emory University until 2017 and is currently the Board of Trustees Professor of English at Northwestern University. The author served two terms as the 19th Poet Laureate of the United States (2012–2014). During her second term, she traveled to cities and towns across the nation to seek out the many ways poetry lives in American communities and reported on her findings in a feature on the PBS News Hour Poetry Series. Trethewey is the author of five collections of poetry, including Native Guard (2006)—for which she was awarded the 2007 Pulitzer Prize—and, most recently, Monument: Poems New and Selected (2018); a book of nonfiction, Beyond Katrina: A Meditation on the Mississippi Gulf Coast (2010); and a memoir, Memorial Drive (2020), a New York Times best seller.
Seamlessly blending individual and collective experience, from the civil war to civil rights, Trethewey's work illuminates the history of American trauma and resilience. The author inspires readers to reflect and learn while engaging in intricate stories that captivate. In 2012, the New Yorker stated of her work, "Trethewey's writing mines the cavernous isolation, brutality, and resilience of African American history, tracing its subterranean echoes to today." Her careful research and the lyricism of her prose and poetry give birth to characters and experiences that connect to all humans and explore struggles faced by all.
Trethewey is the recipient of fellowships from the Academy of American Poets, National Endowment for the Arts, Guggenheim Foundation, Rockefeller Foundation, Beinecke Library at Yale, and Radcliffe Institute for Advanced Study at Harvard. She is a fellow of the American Academy of Arts and Sciences and the American Academy of Arts and Letters. In 2017, she received the Heinz Award for Arts and Humanities. A chancellor of the Academy of American Poets since 2019, Trethewey was awarded the 2020 Rebekah Johnson Bobbitt National Prize for Poetry for Lifetime Achievement from the Library of Congress.