Honorary Degree Recipient: Doctor of Science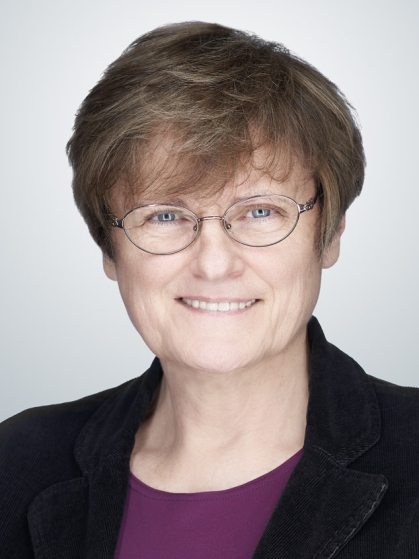 Rutgers is proud to bestow upon Katalin Karikó an honorary doctor of science degree. Karikó is an adjunct professor of neurosurgery at the Perelman School of Medicine, University of Pennsylvania, where she worked for 24 years. She is former senior vice president at BioNTech, Mainz, Germany, where she worked from 2013–2022. For four decades, her research has been focusing on RNAmediated mechanisms with the ultimate goal of developing in vitro-transcribed mRNA for protein therapy. She investigated RNA-mediated immune activation and, together with Drew Weissman, discovered that nucleoside modifications suppress immunogenicity of RNA. This groundbreaking work unlocked the opportunity for the therapeutic use of the mRNA. The nucleoside-modified mRNA-lipid nanoparticle vaccine platform developed by Karikó, Weissman, and Norbert Pardi was used to create the FDA-approved mRNA vaccines by Pfizer-BioNTech and Moderna that are crucial
to fighting COVID-19.
Karikó received her Ph.D. in biochemistry from the University of Szeged in her native Hungary in 1982. Her thesis work involved synthesis and antiviral evaluation of 2'-5'-linked oligoadenylates, called 2-5A, that is responsible for the interferon-induced antiviral mechanism. She performed her research at its Biological Research Center, focusing on 2-5A generated with nucleoside analog cordycepin. In 1985, after moving to Temple University, she expanded her research on 2-5A molecules modified at their nucleosides and internucleotide linkages. In 1986, she helped to perform a clinical trial at the Hahnemann University, where HIV-infected patients were treated with mismatched double-stranded RNA to induce their antiviral systems. In 1989, she joined the faculty of the Perelman School of Medicine. There she used in vitro-transcribed (IVT) mRNA to overexpress selected proteins in cultured cells. She, together with Weissman, demonstrated the IVT mRNA is immunogenic and thus unfit for therapeutic use. They identified uridine being responsible for this activation. Then, they discovered that incorporating pseudouridine into the mRNA, the newly created mRNA was highly translatable and avoided activation of RNA sensors in human immune cells. As the result of this work, she, together with her colleagues at BioNTech, demonstrated functional use of nucleoside-modified mRNA encoding antibodies targeting cancer and infectious diseases. In animal models of multiple sclerosis, they used autoantigen-encoding mRNA and proved that this novel mRNA technology could be used for induction of tolerization, thus opening the possibility of treating autoimmune diseases. She also initiated a clinical study in which tumors of patients were injected with modified mRNAs encoding cytokines, thus promoting potent antitumor immunity and tumor eradication at local and remote sites.
She is co-inventor on 14 patents granted by the United States. She, together with Weissman, founded RNARx, a company dedicated to developing nucleoside-modified mRNA for therapy.
Karikó is the mother of two-time Olympic Champion, five-time World Champion rower Susan Francia.

In the last two years, for her achievements, Karikó received many prestigious awards, including the Japan Prize, Louisa Gross Horwitz Prize, Paul Ehrlich Prize, Benjamin Franklin Medal, Canada Gairdner International Award, Kovalenko Medal, Tang Prize, Warren Alpert Prize, Princess Asturias Award, BBVA Frontiers Award, Breakthrough Prize, and Lasker-DeBakey Clinical Medical Research Award.