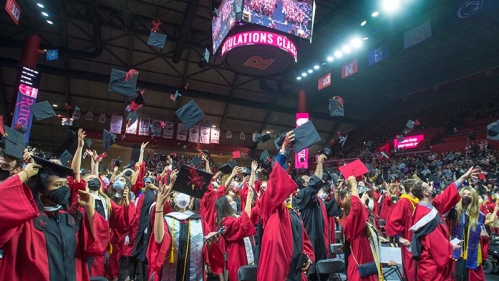 Celebrations & Commissioning
Celebrations are events that celebrate and recognize the diverse identities of graduates. 
Rutgers graduates who complete ROTC training are commissioned into their respective branch of the United States Military. 
Celebrations and Commissioning Dates
Be sure to check with the respective group or department for information. These events do not require a Commencement parking hangtag.
Rainbow Graduation
Center for Social Justice Education and LGBT Communities
Wednesday, May 3, 2023
College Avenue Student Center
Rites of Passage
Wednesday, May 10, 2023
3:00-5:00 p.m.
Jersey Mike's Arena
Pa'lante Celebration
Center for Latino Arts & Culture
Thursday, May 11
8-10 p.m.
Neilson Dining Hall
Navy ROTC Commissioning
Monday, May 15, 2023
2-4 p.m.
College Avenue Student Center
Army ROTC Commissioning
Tuesday, May 16, 2023
10 a.m.-12 p.m.
College Avenue Student Center
Air Force ROTC Commissioning
Wednesday, May 17, 2023
Time and Location to be Announced