Volunteers at Commencement take part in something special! As a volunteer you are able to be "up close and personal" when our newest graduates see 30,000 people cheering for them and their accomplishments.
The ceremony brings together students, family, faculty, staff, alumni, administrators, and more to celebrate the honor of hard work and dedication of graduates from Rutgers-New Brunswick and RBHS.
Faculty members are encouraged to participate in the Commencement Procession.
Volunteer as an Ambassador or Marshal today!
Questions? Contact the Commencement Office at (848) 932-2469 or email.
Volunteer Opportunities
Sign up for one of two key roles: Ambassador or Marshal.
Both volunteer opportunities are very rewarding and all faculty or staff are encouraged to register.
Ambassadors - Select one of the various positions below. Some ambassadors are required to set-up the stadium in advance. Others will participate on the day of Commencement.
Marshals - Assist with guiding the academic procession in an orderly, dignified line to designated seating areas on the field. All marshals are required to wear regalia, which will be provided unless the marshal has their own.  
Training is provided for both roles.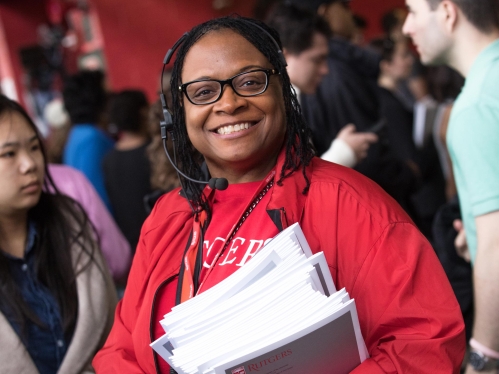 Register to be a Ambassador
Registration will open soon.
Ambassador Volunteer Opportunities
Ambassadors are the volunteer force that helps to make Commencement a reality. As an Ambassador, you are able to choose from a variety of positions that are vital to ensuring that Commencement goes smoothly and effectively. 
Commencement is a rain or shine event. Ambassadors should expect to work in all kinds of weather (except for lighting).
Organize and assist deans, faculty members and graduates in finding their line-up location
Manage the procession of attendees out of the assembly area, located beneath the stadium's south end, to the field.
After the procession, ambassadors clean up the marshaling area take estimates of remaining items and log quantities.
Procession Ambassadors should be able to give clear instructions, be organized, and able to stand and walk for a good portion of the day. Individuals should also be comfortable working in a crowded area.

Role is needed from 7:30 a.m. until 11:30 a.m.

 

Assist the individuals receiving honorary doctoral degrees and their guests prior to and during the ceremony.  
Greet the honorees upon their arrival, assist with their academic regalia, provide for any special requests, and assist them once the ceremony has ended.  
Must be comfortable speaking with people and able to stand for periods of time. 

Role is needed from 7:00 a.m. until 1:00 p.m. 

Information Ambassadors are the lifeline for graduates and guests on Commencement day. Ambassadors help to answer questions, direct graduates and guests to their proper places, as well as answer questions about the stadium and ceremony. 
Ambassadors are expected to exercise their voice to actively direct graduates to the marshaling area, which is on the field level in the south end of the stadium.
Stationed throughout the Stadium and the surrounding plazas to help everyone enjoy their time at Commencement.  
Should be comfortable talking with people, willing to take initiative in directing crowds, and able to stand and walk for a good portion of the day. 

Role is needed from 7:00 a.m. – until 11:30 a.m.
 

 

Help the members of the Platform Party (governing boards, administration, deans, special guests, etc.) throughout the day.
Roles are assigned by staff lead and/or captains.
Set the platform accordingly with commencement binders and packets as well as other important items.
Assist as the platform party arrives for a pre-ceremony meal, including check-in at door, with the donning of their academic regalia, and processing onto the main stage for the ceremony.
Following the ceremony, the Ambassadors will help collect and organize all regalia and any other material from the platform and Brown Recruiting Pavilion such as binders, umbrellas, and ponchos.
This role is expected to be organized, efficient.

Role is needed from 7:00 a.m. until 1:00 p.m.
 

Organize and register the volunteers as they arrive at the stadium and check-out at the end of each shift.
Must be punctual and able to manage people in a friendly and organized manner.
Help the check-in and check-out process run as smoothly as possible.
Must be able to stand for periods of time.

Role is needed from 6:15 a.m. until 1:00 p.m.

Assist our guests with accessibility issues. Ambassadors will greet guests as they arrive, answer their questions, and direct them to special needs seating. 
May be stationed at shuttle bus lines in parking lots.
Should be able to stand for periods of time, be comfortable assisting those with mobility issues and enjoy assisting others. 

Role is needed 7:00 a.m. to 1:00 p.m.

Help to prepare the stadium for the ceremony.
Should be willing and able to climb stadium stairs, move boxes of supplies and programs, carry tables and chairs, lift items up to 25 lbs.
Volunteers may select setup role, which occurs in days leading up to the event, and a role on the day of the event, if they wish.     

Role is need Friday, May 12, 2023
8:30 a.m.-12:00 p.m.

An official Commencement t-shirt
A thank you gift
Entry into a volunteer raffle
Convenient parking for the day of Commencement
Continental breakfast
Training
Recognition on the video screen in the stadium and on our website.
Register to be a Marshal
Registration will open soon.
Commencement Marshals
Commencement marshals are responsible for moving our faculty and graduates from the marshaling area at the stadium out onto the field and into their seats.
Commencement Marshals:

Responsible for moving our faculty and graduates from the marshaling area at the stadium out onto the field and into their seats.
Keep the graduates moving along swiftly and safely to their seats.

It is a tremendous honor to be "up close and personal" when our newest graduates see 30,000 people cheering for them and their accomplishments. Since there is no rehearsal for Commencement, it is only through the efforts of the Commencement Marshals that this pageantry is completed.

Marshals are required to wear academic regalia, which is provided unless the Marshal has their own. Marshals must be at least 21 years old.

Commencement is a rain or shine event. Marshals should expect to work in all kinds of weather (except for lighting).

This role is needed from 7:30 a.m. to 12:30 p.m.

 

A thank-you gift
Training in advance
Parking near to the stadium for the day of Commencement
Breakfast at SHI Stadium
Recognition on the video screen in the stadium, in the digital program, and on our website
Academic regalia rental